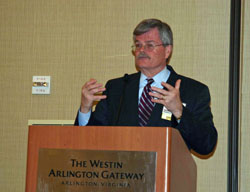 Unfortunately, when dealing with the threat of activist groups it is hard to avoid the courtroom. During the Animal Agriculture Alliance Stakeholders Summit we heard from those who have seen first hand the legal ramifications of activist tactics.
John Simpson, partner at Fulbright and Jaworski LLP, shared how he fought back for his client for 13 years and tips for those courtroom battles. John represented Feld Entertainment, who produces the Ringling Bros. and Barnum & Bailey Circus. The team was victorious and ASPCA paid Feld Entertainment a $9.3 million settlement.
John doesn't refer to these groups as activists, he says they are special interest groups with a radical agenda. He also stressed that they will attack you at the local, state and national levels. They will not only attempt to take action in the courtroom, they will attack the legislative, science and vet labs, in the media and your very own business.
Listen to or download my interview with John here: Interview with John Simpson
Listen to or download John's complete presentation here: John Simpson - Presentation
Check out photos from the event: 2013 Animal Ag Alliance Stakeholders Summit Photo Album
Coverage of the Animal Agriculture Alliance Stakeholders Summit is sponsored by National Pork Producers Council and National Cattlemen's Beef Association