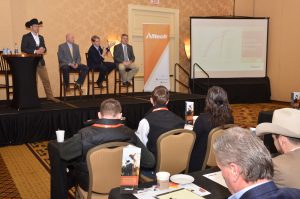 Back by popular demand, Alltech brought attendees of the 2019 Cattle Industry Convention and NCBA Trade Show the Mineral Myths Forum. Last year they tackled the importance of minerals in feedlots. This year fertility sat center stage. The newest technologies behind trace mineral supplementation and its impact on not only fertility but also immunity and calf health were also discussed.
Following the forum, we sat down with Alltech's Dr. Vaughn Holder and asked him to take us through each myth and hold cattle producers can apply in their own herds.
Myth #1 – All organic trace minerals are created equal.
Myth #2 – Minerals are only for health and fertility, not performance.
Myth #3 – Mineral supplementation only has an effect on the current generation, not successive generations.
Myth #4 – Using organic trace minerals costs your operation more than inorganic trace minerals.
Myth #5 – Mineral supplementation is all about getting essential nutrition, and not about the type of delivery method.
Myth #6 – I only need a mineral program at certain times of the year.
2019 Cattle Industry Convention & NCBA Trade Show Photo Album
Official Cattle Industry Convention and NCBA Trade Show virtual newsroom