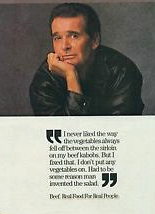 With the passing of film and television actor James Garner over the weekend, many are remembering his popular roles such as Bret Maverick in the 1950s western-comedy series Maverick and Jim Rockford in the 1970s detective drama The Rockford Files.
One great role he played for the Beef Checkoff was the voice and face for some of the very first "Real Food for Real People" radio, television and print ads. He and Cybill Shepherd were signed together as celebrity spokespersons in November 1986 and their ads ran in 1987 and 1988. And, before the comments from the anti-meat brigade start, it's true that after he had quintuple-bypass heart surgery in April 1988 his contract with the beef people was not renewed.
Here's one called "Right Brain, Left Brain." RIP Mr. Garner.