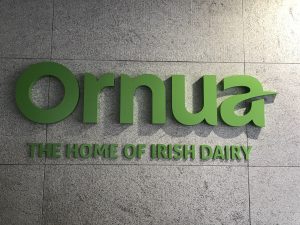 Irish stew, fish and chips or bread pudding might be the first foods you think of when Ireland pops into your head, but for many it's butter. And to be even more specific, Kerrygold. While in Dublin at the Alltech KEENAN Great Green Getaway, we visited Ornua, Home of Irish Dairy and Kerrygold. I have to admit I hadn't experienced Irish butter before my debut trip to Ireland a few weeks ago, now my mouth waters just thinking about it.
"We are very proud that in the U.S., Kerrygold is the number three butter brand and the number one imported butter," said Monique Kelleher, Ornua communications manager. "What makes Irish butter or Kerrygold unique is that we have a grassed-based farming system here in Ireland. We tell our customers the story of Irish dairy farms. The story of the brand is very much the quality of milk that goes into the butter and the fact that our cows can graze outdoors up to 300 days a year."
Kelleher said the grass gives Irish butter the yellow color and unique taste. Global food trends are something Ornua keeps a close eye on. They have discovered the U.S. consumer wants to know the providence of their food and understand how it's produced.
Listen to my complete interview with Monique to learn more about the Kerrygold brand and how Ornua brings the unique taste of Irish dairy to the world. Interview with Monique Kelleher, Ornua
View and download photos from the trip here: Alltech KEENAN Great Green Getaway Photo Album
Great Green Getaway Coverage Sponsored by Alltech & KEENAN