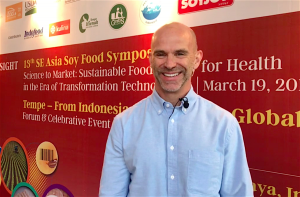 USDA Foreign Agricultural Service's Chris Rittgers has called Jakarta, Indonesia home for nearly a year, but is a veteran when it comes to the role of agricultural counselor. Prior to this three-year position, Rittgers worked for the USDA in the Dominican Republic, Haiti, Malaysia, Iraq, Egypt and Spain. Naturally, he was the perfect person to share the role of Indonesia in the global marketplace during the 13th SE Asia Soy Food Symposium and Ag Supply Chain Asia 2018 events in Surabaya, Indonesia.
"Indonesia is unique. They import soybeans primally for food use. The objective of these events is to provide technical information for Southeast Asia on the quality characteristic of U.S. soybeans, our infrastructure, marketing system and how it's produced. They are also getting information about our supply chain and no one can explain it better then our U.S. producers themselves. They are our best ambassadors for our sector and many are here from various states in the Midwest," Rittgers said.
As an advocate for U.S. soybean in the southeast Asian market, Rittgers continually shares the advantages of U.S. soybeans. He said U.S. beans come with a transparent price, systematic infrastructure, consistent quality and stable supply.
Rittgers also said the history and relationship between the Indonesian buyers and the U.S. exporters is a big contributor. "It's been several decades they have had hard, concrete and successful economic relationships," Rittgers said.
Listen to my complete interview with Chirs to hear his overall views on the future of the Southeast Asian market beyond soy: Interview with Chris Rittgers, USDA FAS Indonesia
View and download images from the event here: USSEC SE Asia Buyers Conference Photo Album