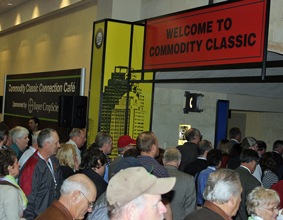 With more than 7,300 total attendees, the 2014 Commodity Classic convention and trade show in San Antonio shattered all previous records.
"We knew it was the biggest event ever, but the numbers really surprised us as we saw them rolling in over the course of the event," said Commodity Classic Co-Chair Rob Elliott.
And the record numbers are impressive:
Total attendees – 7,325 – up 18% from 2013
Total growers – 3,874 – up 16.5%
First time attendees – 1,261
Trade show companies – 301
Next year will be the 20th annual Classic and it will take place in in Phoenix, Ariz., the city where it all started. Then in 2016, Commodity Classic welcomes a new affiliate, the Association of Equipment Manufacturers (AEM) for a bigger and better show in New Orleans, including the addition of several components and a number of exhibitors from AEM's 2013 AG CONNECT Expo & Summit.