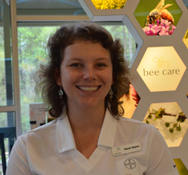 Meet Sarah Myers, the apiarist in charge of the North American Bayer Bee Care Center. She is our guide for this YouTube tour through the newly opened facility with a taste of what it has to offer for visitors. You can register for tours on the Bayer CropScience website.
You can also find lots of photos of the new center here:
Bayer CropScience Bee Care Center
Grand Opening Photo Album
Take it away, Sarah!