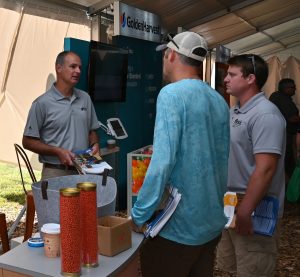 Golden Harvest is working to help growers better understand how specific hybrids respond to different management practices. After surveying 100 random Midwest growers, the company learned that 84 percent believe having access to hybrid specific information is extremely important. But, only slightly more than half said they were not managing their hybrids down to that level.
Golden Harvest has an answer for helping those growers to get the hybrid specific information they need with the annual Agronomy in Action Research Review.
"We're trying to give them a starting point," said Bruce Battles, technical agronomy manager. "We realize there is still room and a need to experiment on their own farm, but we're giving them a starting point around basic things like fungicide response, seeding rate response, fertilizer placement and response to that versus a broadcast application."
The research is available as a hard copy or online, or by contacting a local Golden Harvest seed advisor.
You can find their release on this from earlier this year here: https://www.syngenta-us.com/newsroom/news_release_detail.aspx?id=223108
Bruce Battles, Technical Agronomy Manager, Golden Harvest
FPS22 Interview with Bruce Battles, Golden Harvest (4:50)
2022 Farm Progress Show Photo Album