Do you have a favorite farmer using social media? Are you really engaged in the online conversation yourself? Then get your nomination in for the first Social Media Farmer of the Year Award.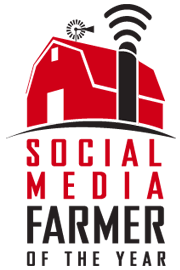 This award program, which AgWired is a sponsor of, is being conducted by Phil Lempert, Food Nutrition & Science. You might know Phil as the Supermarket Guru. We talked about the award program and it's that conversation I'm sharing in this week's program. The award winner will be receiving a number of prizes which are still being finalized but include an expense paid trip to Chicago for the FMI Connect to receive the award. Sponsorships of the award are also still available.

The new award recognizes farmers who have incorporated social media, digital media and internet strategies to achieve their business objectives including growing revenue, sharing information for more effective farming practices, and promoting positive awareness of the industry.
Nominations for the award are now being accepted. Farmers can nominate themselves or a colleague http://www.foodnutritionscience.com/2014award/. The deadline for nominations is March 31, 2014. The winner will be presented with a trophy and other prizes at the FMI Connect show in Chicago on June 11, 2014.

"Social media has provided farmers with a unique opportunity to communicate directly with other farmers, customers and consumers," says Phil Lempert, editor of Food Nutrition & Science. "This award will honor their innovation and outstanding efforts that not only results in a greater person-to-person dialogue, but elevation of the industry as a whole."
In our conversation I asked Phil to tell us what he sees as some current trends in the supermarket business. Not surprisingly, one of them is the rapid change in technology.
You can listen to this week's program here. Social Media Farmer of Year Award
Thanks to our ZimmCast sponsor, GROWMARK, locally owned, globally strong, for their support.