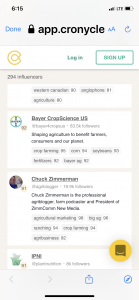 I remember the first time my conference name badge said "Influencer" instead of "Media." It was the 2017 Bayer Future of Farming Dialogue in Germany.
Basically, a social media influencer is someone who has established credibility in a specific industry, has access to a large audience in that industry, and has the tools and authenticity to attract followers and create engagement consistently on a specific platform, mostly Twitter or Instagram. My personal Twitter account @AgriBlogger was started in 2007 and has almost 20K followers.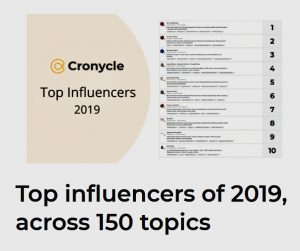 According to Cronycle, I am one of the top 10 influencers of 2019 in the fertilizer industry.
Cronycle is a London-based service that allows users to monitor specific topics and share with others by annotating, tagging, and directly highlighting articles. They base their top influencer rankings on "technology analyzes networks to identify communities across 50k+ topics."
Then, we identify influencers per Topic – such as the top influencers lists. For each Topic, we use machine learning, semantic analysis and natural language processing on unstructured data at scale.
Last but not least, they "surface content relevant to each topic, as an automated feed. To do this, we mine the web for content – around 600k articles, videos and Twitter conversations daily from around 2 million websites every month." (I added the bold.)
Content is still incredibly important to marketers and most especially good content. We have been doing that here on AgWired for over 15 years. Almost 200,000 photos. 10s of thousands of podcasts, interviews and other audio files. Thousands of video clips on YouTube and Facebook. And thousands of tweets on @Agriblogger, @FarmPodcaster, @AgWired, @EnergyAgWired, and @AgNewsWire. Tweets on @AgWired frequently receive 1500+ impressions and engagement rates above one percent – an engagement rate between 0.33% and 1% is considered to be very high.
Content continues to reign as king according to this World Media Group study. "About 80% of marketing professionals worldwide surveyed in October 2019 said they expect content-led campaigns to grow over the next two years, with 19% saying they expect they would stabilize." The study also showed that "Nine in 10 respondents said they planned to use audio/podcasts in 2020 . . ."
If you are in need of a good influencer and an experienced content producer – that's what we do. I'm in the process of booking the Golden ZimmComm Microphone and ZimmCams to create content and publish it on our "influential" platforms at upcoming events, like Commodity Classic. Email me – chuck@zimmcomm.biz.