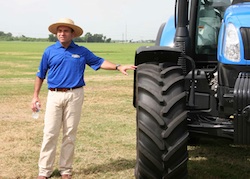 New Holland Agriculture has spent a good part of the summer in the great state of Texas training their dealers from across North America. The training has taken place in Houston, where the temps are high and the humidity is even higher. But that hasn't stop dealers from taking advantage of the two-day training opportunity.
The dealers rotate through six checkpoints where each new product line is announced. Details are given about changes and additions, but the most important part of the training is the chance for dealers to get behind the wheel and actually run the equipment themselves.
I spoke with Abe Hughes, Vice President of New Holland, North America, recently when they invited ag media to their training facilities in Houston, TX. Abe shared with me how growth, creating smart products and continuing partnerships are the three most important avenues New Holland has set out to accomplish.
"I'm just really excited to be sharing our seven product launches that we've got for the dairy and beef segments. It's really exciting being here in Texas with you guys from the media so you can see them and hear from our experts. Then get in the field and use the equipment. We are also sharing this with all of our dealers. We have been here for five weeks training dealers and employees."

"What I find amazing is 89 million cattle are actually out there being raised for beef and dairy. New Holland is probably providing feed for most of those cattle every single day. The more we can train people in making better hay, the better nutrition that forage is going to have for the farmer and that means better beef and dairy we are going to have on our table."
Listen to my interview with Abe from here: Interview with Abe Hughes