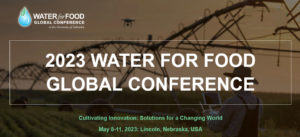 For the first time since 2019, global water management and food security experts will gather in person May 8-10 in Lincoln, Nebraska for the 2023 Water for Food Global Conference.
The Daugherty Water for Food Global Institute will host this 10th conference with the theme "Cultivating Innovation: Solutions for a Changing World," according to executive director Peter McCornick, who says events over the past four years have highlighted the importance of their mission. "The interest in water and food security is much higher than I have seen in a long time," said McCornick.
The conference, which will feature a virtual component along with the live event, will focus on innovative ways to improve water and food security by increasing farmers' resiliency to a changing landscape. The challenges of climate change, soil degradation, water access and management, economic disparity and conflict bring about extreme competition for urban and rural water.
Learn more in this interview with McCornick.
Water for Food Conference interview - Peter McCornick, DWFI Executive Director (8:51)