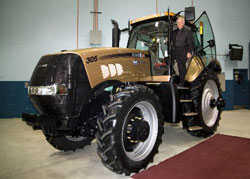 It sounds like it could be a movie. It sounds like this tractor won't be getting all muddy and scratched up out in the field either.

Jerry Forsythe must feel like King Midas these days. That's because he's the proud owner of the world's only all-gold Case IH Magnum™ 305 — a tractor that's normally painted the signature red color of other Case IH farm equipment.
Forsythe, a farmer and businessman from Marshall, Ill., is a long-time collector of unique Case IH tractors. "I got the idea for the all-gold model after learning that Case IH would be producing special edition tractors to celebrate the 20th anniversary of Magnum's introduction," said Forsythe.
Case IH is manufacturing 100 Gold Signature Edition Magnum tractors for 2008, but those are painted both red and gold. Forsythe wanted something different — and worked with his dealer, Kurt Edens from Casey Farm Pride, to specially order a one-of-a-kind, all-gold edition.
Although Forsythe mainly uses Case IH equipment on his farm, his all-gold Magnum will not join the working ranks of the primarily-red fleet used to maintain his 28,000-acre operation. Instead, it will be one of many tractors in his private collection of Case IH and Farmall equipment, which also includes the 100,000th Magnum produced and the very first tractor his dad purchased new, a 1948 Farmall H.