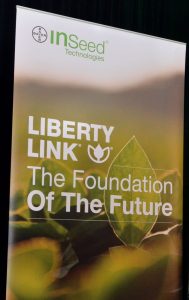 Bayer's Credenz soybeans including LibertyLink traits performed well in 2017 despite less than ideal weather conditions in many areas.
"Across the board, maybe not every segment of geography had the most ideal weather for soybean production, but as a general rule, results were really positive," said Monty Malone, soybean agronomy leader for Bayer. "Yields were high – a lot of excellent potential. Our new products performed well. We're excited about some new things that Bayer is bringing forward in our current flagship trait of LibertyLink. We're also excited about the performance and future developments of traits that we're bringing forward maybe next year or the year after."
Malone said LibertyLink will be the base foundation trait of all herbicide stacks, including those of competitive companies, moving forward. Growers continue to adopt the LibertyLink trait at a fast pace, with its market share growing from roughly five million U.S. acres in 2015 to an addition four million acres in 2016. 2017 was the best year ever for LibertyLink, as it was the highest rated soybean trait platform and added another five million acres of market share. Indications for 2018 from market research and grower intentions point to another four to six million acres of growth, according to Jody Wynia, U.S. seed and trait product manager for Bayer CropScience.
"About four years ago, we developed a platform that we wanted to have Liberty Link enabled on every trait platform in the marketplace," said Wynia. "And as you look forward to around 2020, it will be in every major trait platform," said Jody Wynia, U.S. Seed and Trait Production Manager for Bayer CropScience. "LibertyLink, because of the weed control and the performance that growers are seeing, and the adoption rate, is going to be that platform that's a foundation for every trait system."
Wynia said Bayer is divesting the entire LibertyLink platform to BASF, contingent on the close of the Monsanto purchase. He said customers at the grower and retail level should expect a smooth transition and very little change to the past experience they have had with LibertyLink.
Cindy interviewed both Malone and Wynia at last month's ASTA 2017 CSS and Seed Expo. Listen to them both here:
Interview with Monty Malone, Bayer
Interview with Jody Wynia, Bayer
2017 ASTA CSS and Seed Expo photo album