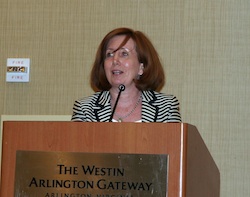 Speaker after speaker during the Animal Agriculture Alliance Stakeholders Summit reminded us that transparency is no longer an option for the livestock industry. To prove that the agriculture community has nothing to hide, groups have opened their doors to share how your food is made.
Senior Vice President for Public Affairs & Professional Development at the American Meat Institute, Janet Riley, was one of those speakers who shared how her organization is bridging the divide between producer and consumer. I got the opportunity to talk with her and she gave more insight into AMI's Glass Wall Project.
"For far too long the animal rights activists have said if slaughter houses had glass walls everyone would be a vegetarian and I didn't believe it. Then Cargill really gets a lot of credit for the inspiration when they allowed the Oprah show into their plant. It went so well. It was just a very honest dialogue, they didn't shy away from anything. So I started talking to Temple Grandin and I said will you be willing to host some videos and just explain in your own works how we slaughter livestock. She was delighted to show people what we do and how she has influenced what we do. She picked two plants that were representative of the beef and pork industries. Both agreed to open their doors to us. Then we decided that we would produce these videos in Temple's own words. We wanted authentic transparency and so we just allowed Temple to explain in the best way she could how we process livestock into meat at each step of the way. It was a really interesting experience. Every now and then I would say consumers might not understand why we do this, could you explain it? And then she would."
The beef and pork processing plant videos can be viewed at AnimalHandling.org, along with more information on meat processing. AMI is looking into producing a turkey processing video next. These videos are a great educational tool and open doors for progressive dialogue.
Listen to or download my interview with Janet here: Interview with Janet Riley
Listen to or download audio from Janet's complete presentation here: Janet Riley - American Meat Institute
Check out photos from the event: 2013 Animal Ag Alliance Stakeholders Summit Photo Album
Coverage of the Animal Agriculture Alliance Stakeholders Summit is sponsored by National Pork Producers Council and National Cattlemen's Beef Association