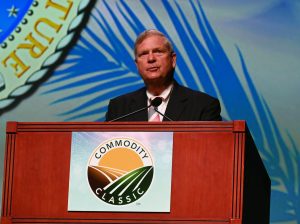 Secretary of Agriculture Tom Vilsack addressed the Commodity Classic for the 10th time last week, counting the virtual event in 2021.
Vilsack took the opportunity to sign memorandums for two of USDA's new Partnerships for Climate-Smart Commodities programs – Farmers for Soil Health (FSH) and the Midwest Climate Smart Commodities Project.
"It is the beginning of a process of a number of projects that are going to transform how we farm, where we farm, what we do to sustainably produce crops," said Vilsack.
Secretary of Agriculture Tom Vilsack addresses Commodity Classic
Classic 23 Agriculture Secretary Tom Vilsack address (28:49)
Secretary Vilsack and USDA Under Secretary for Farm Production and Conservation Robert Bonnie joined the National Fish and Wildlife Foundation and farmer-leaders with Farmers for Soil Health (FSH) to sign a $95 million USDA Partnerships for Climate-Smart Commodities grant, officially launching the Farmers for Soil Health initiative.
Classic 23 Agriculture Secy Vilsack - Farmers for Soil Health MOU (3:28)
Vilsack also joined the Iowa Soybean Association to sign the Midwest Climate Smart Commodities Project, which also includes other partners such as PepsiCo, Cargill, Renewable Energy Group, Ingredion, Target, JBS, Coca-Cola, Mano y Ola, FarmRaise, Rural Community Assistance Partnership.
Classic 23 Secy Vilsack - Midwest Climate Smart Commodities MOU (2:58)