AgWired coverage of IFAJ 2009 is sponsored by:


and

A little over a year ago Monsanto made a commitment to people around the world to sustainable agriculture. The company is working on products that will produce more than double current yields while reducing the resources needed to grow the crops by nearly one-third. They are so committed that they launched a website to discuss this topic: www.producemoreconservemore.com.
I was curious to learn more about Monsanto's initiatives in the sustainability department so I caught up with Kevin Eblen, Vice President Public Policy & Sustainable Yield for Monsanto.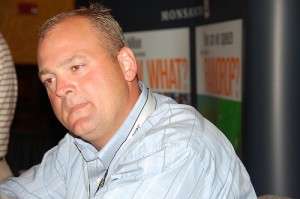 "What we're trying to to get the world and the public to see and know is that we have the capability to produce more food and conserve resources at the same time," explained Eblen. "So we went on record saying in the core crops that we focus on as a company which is corn, soybeans and cotton, that we can double the yields of these crops by 2030 with the starting year of 2000. And at the same time, through the use of technology we have and others' have, that we could conserve resources by one-third to produce each unit of corn, beans and cotton."
Eblen mentioned that the UN has determined that the world will need to produce as much food in the next 50 years that has been produced in the last 10,000 years. That is why Monsanto is working with farmers around the world to help them grow crops that are both sustainable and profitable.
You can see all our pictures from the Ag Media Summit in the IFAJ/AMS 2009 Photo Album.
You can listen to my full interview with Kevin Eblen here.