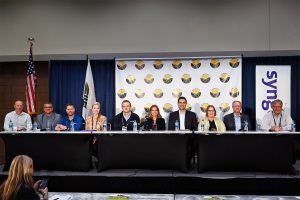 Syngenta had so much news to share at the 2022 Commodity Classic that it could barely fit into one press conference.
Syngenta North America Corporate Communications Head Paul Minehart, far right, moderated the panel of company experts, who are from right to left: Eric Boeck, North American Seeds Head of Marketing; Eric Miller, NK Soybean Product Manager; Stephanie Porter, Golden Harvest soybean product manager; Liz Hunt, Syngenta Head of Sustainable and Responsible Business; Al Klapp, Market Development Manager at Valagro USA (acquired by Syngenta in 2020); Katie Jaeger, Syngenta Seedcare product lead; Pete Eure, Syngenta herbicide technical lead Tendovo™; Mark Kitt, corn herbicide technical product lead; and Shawn Hock, AgriEdge Manager at Syngenta. (Click on the photo for a bigger image and check out the photo album for individual photos of each person)
2022 Commodity Classic with Syngenta Photo Album
Syngenta Press Conference
Syngenta Press Conference
We are going to have separate posts on each of Syngenta's major announcements, but here are links to the press releases and individual interviews on many of the topics.
Syngenta introduces CruiserMaxx® APX soybean seed treatment for unmatched Pythium and Phytophthora protection
Interview with Katie Jaeger, Syngenta Seedcare product lead (3:00)
NK Seeds Introduces 2023 Field Forged Series to Help Farmers Optimize Every Acre
Interview with Eric Miller, NK Soybean Product Manager (2:52)
Syngenta launches new sustainability standard benchmarked against SAI Platform's Farm Sustainability Assessment
Interview with Liz Hunt, Syngenta Head of Sustainable and Responsible Business (6:05)
Syngenta announces EPA registration of Tendovo™ soybean herbicide
Interview with Pete Eure, Syngenta herbicide technical lead (2:58)
2021 field trials show Golden Harvest corn delivered stronger yield results
Interview with Andy Ackley, Golden Harvest corn product manager. (3:48)
How producers who feed Enogen® corn can increase feed efficiency by about 5%1 when fed as grain or silage
Interview with Duane Martin, Enogen Head of Marketing and Stewardship (5:33)
Syngenta digital tools for growers AgriClime and AgriEdge
Interview with Heather Volpe, NK Regional Marketing Lead (4:47)