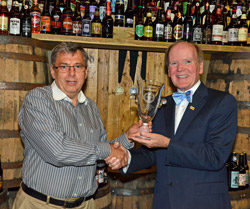 If you're going to hold a world class customer event why not start with a craft brew festival? Brilliant! That's what Alltech did yesterday here in Lexington, KY. A thousand beers from 30 countries were featured at this event which was packed with 4,500 fans and early arriving attendees to this week's 2014 Alltech Symposium.
During the festival yesterday Dr. Pearse Lyons, Alltech founder, presented the first Alltech Commonwealth Craft Beer Cup winner with a trophy. Levente Gati of Hungary accepted the Alltech Commonwealth Craft Beer Cup on behalf of brewer Jozsef Turoczi of Zip's Brewhouse in Miskolc, Hungary. The brewery's "Zip's Christmas 2013" Christmas Ale took the top prize.
So, you couldn't make it? Don't despair. Wearing ZimmGlass I created a walk through look at the festival that includes interviews at several brewery stops, with Dr. Lyons and with Levente. You can also see the full stage presentation of the winners. Assuming Alltech does this next year you might want to add the date to your calendar. I'm here for the Symposium again this year which kicks off with an opening banquet this evening.
Photos from yesterday's event and the Symposium can be found here as I add to them: 2014 Alltech Symposium Photo Album