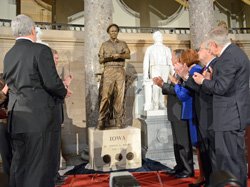 Dr. Norman E. Borlaug's statue was installed today at the U.S. Capitol in Washington, D.C., on what would have been the great agricultural scientist's 100th birthday. The leadership of the United States Congress, U.S. Secretary of Agriculture Tom Vilsack, Governor Terry E. Branstad of Borlaug's home state of Iowa, and Amb. Kenneth M. Quinn, who chaired the Borlaug Statue Committee, were all part of the ceremony.

Borlaug dedicated his life to breeding better varieties of wheat, and worked with farmers, scientists, politicians and others to improve agricultural methods and policies to alleviate hunger and malnutrition worldwide. His achievements earned him recognition as "Father of the Green Revolution" and the distinction of being the only American to receive the Nobel Peace Prize, the Presidential Medal of Freedom, the Congressional Gold Medal and the National Medal of Science.

The Borlaug statue was created by Benjamin Victor.
Chuck was there and will have lots of photos from today's event which he'll upload as soon as he can and add the link here.
Post Update: You can find all of Chuck's photos here: Borlaug Statue Unveiling Photo Album
Listen to the statue unveiling ceremony here:Unveiling Ceremony of Dr. Norman Borlaug Statue