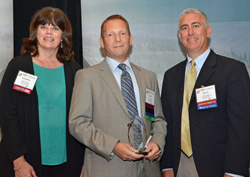 During our concluding lunch to the 2013 NAMA Fall Conference we celebrated with our new Professional Development Awards of Excellence. Let's start with Gary Sakin, Monsanto, for Marketing Communications.
Gary joined Monsanto in November of 2006, and has made impactful changes to how Monsanto approaches branding, measures marcom impact, and engages with its audiences. Currently, Gary is a key member of Monsanto's U.S. Marketing Leadership Team, serving as Director of Advertising, and is involved in providing strategic recommendations and counsel that includes Monsanto's seed, biotechnology, prescriptive agriculture and chemistry brands. He manages multi-agency relationships, oversees tradeshow contracts and participation, identifies and monitors industry trends and their impact on Monsanto marketing objectives, drives overall brand planning, and helps guide Monsanto's significant overall advertising presence.
Listen to remarks from Gary here: Gary Sakin Remarks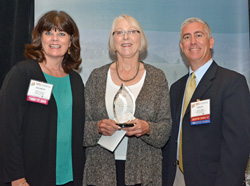 Next up we have Linda Romander, Broadhead, for Public Relations.
A senior public relations manager at leading agribusiness marketing agency broadhead., Linda has achieved a great deal since her arrival in 2005. Since day one, she has fast become the go to resource for clients seeking sound PR strategy and vision, as well as a mentor for her firm's younger staff and teams.
Listen to remarks from Linda here: Linda Romander Remarks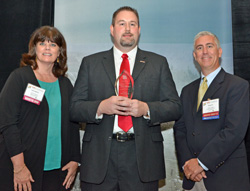 The Product Management award was presented to Zach Hetterick, Case IH.
Zach has distinguished himself in the past two years, leading the charge at Case IH for the Livestock/Hay/Forage business as Livestock Marketing Manager. While in this role, he has successfully spearheaded several new product launches, including the Case IH LB4 large square baler, and current launches for the WD3 series windrower, DC3 series disc mower conditioner, and RB565 round baler.
Listen to remarks from Zach here: Zach Hetterick Remarks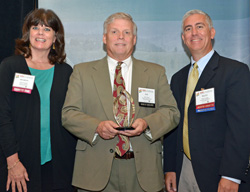 For Sales the award was received by Jay Carlson.
As regional sales manager for BEEF magazine and its digital communications properties, Jay is arguably the nation's top marketer on a volume basis of print and online livestock advertising. He has been a key innovator in U.S. livestock publishing, developing a number of key instruments and programs that continue to meet the needs of both U.S. livestock producers and U.S. product marketers.
Listen to remarks from Jay here: Jay Carlson Remarks