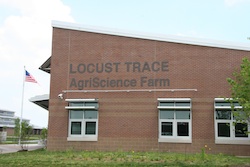 Locust Trace AgriScience Farm is the newest career and technical high school in Lexington, Kentucky with energy and environmental being key factors in the facility design and agriculture being the educational focus.
Locust Trace features spacious classrooms with adjoining labs, 6.5 acres for gardening, a state-of-the-art greenhouse with an aquaculture area for raising native fish, a soaring auditorium with a garage door for brining in livestock and machinery, an expansive equine barn and arena and an on-site veterinary clinic.
Students study in one of five programs: Intro to Agriculture, Environmental and Wildlife Science, Agriculture Power Mechanics, Equine and Vet Science, and Small and Large Animal Science.
The school is designed to be net-zero in energy through the use of photovoltaic solar panels and net-zero in waste disposal through the utilization of constructed wetlands. The school is also minimally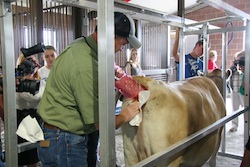 hooked up to water municipalities. All the rain water is collected from the classroom building and the equine barn/arena to be utilized for all crop irrigation and livestock watering. An on-site well has been accessed to back up the rain water collection system in case of a drought. Sustainable agriculture is a focus in all programs.
I had the opportunity to catch up with Sara Tracy, who serves as the Community Lesion for Locust Trace, Brian Miller, Administrative Dean, and Danielle Milbern, Jr. at Locust Trace AgriScience Farm. They explain what it is like to work for and attend such a unique high school as well as a perspective into the diverse set of opportunities students can take part in.
Listen to my interview with Sara, Brian and Danielle here: Interview with Locust Trace Representatives