I just got a bunch of information from the people handling the upcoming International Federation of Agricultural Journalists meeting in Thun, Switzerland. Now if I could just find that sponsor to help cover the final expenses of the trip . . .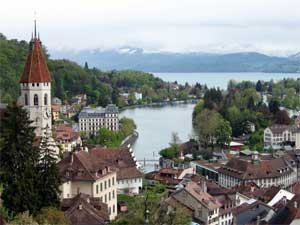 This is going to be a great trip and a long one. I'll be blogging my way from central Missouri there and back. I am actually seeking a sponsor to cover primarily travel expenses. Cindy will be going with me on this one too!
If you would like to discuss a sponsorship please let me know. Since we don't sell advertising at present I'm going to make sure that the posts I do related to this trip contain a reference to our sponsor(s). A sponsorship package will include Talking News Release service so we'll make it very worthwhile. Just let me know.