Breakfast this morning in Columbia, MO was at the MFA Oil headquarters. The Columbia Chamber of Commerce has a Food For Thought Breakfast Series that features interesting topics and speakers. Today it was Michelle Kautz, National Ethanol Vehicle Coalition and Jon Kleiboeker, Missouri Soybean Association speaking about renewable fuels, ethanol and biodiesel.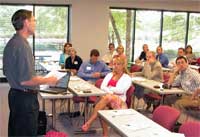 Pictured here is MFA Oil's David Perkins, special projects manager, who also discussed how MFA Oil is supporting and encouraging the use of renewable fuels. The people attending were from a variety of business interests and many learned a lot about ethanol and biodiesel that they never knew. Judging by the questions asked there's still a big job to do educating the general public about renewable fuels. For example, one of the speaker said that many consumers who purchase a flexible fuel vehicle (runs on E-85 or regular gas) don't even know that they can put E-85 in it! I also heard that one of the reasons many gas pumps that contain up to a 10 blend of ethanol don't even label it as such is because they found that consumers shied away from it thinking it would hurt their car somehow!
Obviously a lot of consumer education to do about these renewable fuels!