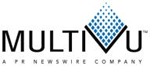 I just found out that Multi-Vu, a PR Newswire company, is now providing a video podcast service for their clients. Very interesting . . .

MultiVu, PR Newswire's broadcast and multimedia company, is now providing its customers' video content directly to consumers through Apple's new iPod with video. Through video podcasting, MultiVu is now indexing video content it produces on behalf of organizations in Apple's iTunes MultiVu's customers will benefit from having their video content indexed as individual podcasts and as part of MultiVu's general news podcast on iTunes.
Notice the key phrase in their release, "providing its customers' video content directly to consumers." And this is a service that has traditionally provided that content to reporters who then make editorial decisions on what their readers/listeners/viewers get. This only makes sense folks. It's why ZimmComm has entered into an agreement with Quickfarm to deliver client news release content directly to farmers through AgNewsWire.AgWired.com! When you see that the releases we now distribute are put directly in front of farmers you realize that it's what I call unfiltered news. No editor has filtered it. Your client or member farmer gets to make his/her own editorially decisions when they see the AgNewsWire.AgWired.com feed on the Quickfarm Network. The releases can contain links to any variety of media content you want the farmer to see or hear. It can direct him to where to subscribe to your audio or video podcast even.
This is why we're evangelizing farm podcasting. You can now create and become your own medium. I know there are those skeptical marcomm people who somehow can't believe that farmers have iPods or high speed internet access. Actually, to be fair, I think their skepticism come from the fact that there's no study or measurement they can point to. However, I believe farmers are no different than your average consumer when it comes to using computers, internet and now even iPods. I wonder who the brave new marcomm souls will be who will consider this excellent new way to create and distribute "content" directly to their customers or their client's customers. I guess we need to figure out how to talk USDA into adding iPod use into their periodic farmer internet studies.
In my meetings over the last couple weeks as I've presented the concept to numerous people at companies and agencies I've seen a variety of reactions. However, even the skeptics are intrigued. When they realize that the cost of hiring a professional firm to produce a podcast and host it and then buy iPods for their top customers to get the ball rolling is so very, for lack of a better word, affordable, I can see the wheels turning. Why not produce content for your members or customers and allow them to subscribe to it? They are the perfect audience. They want to get what you have to say and you have complete control over the message. I like the way Multi Vu says it in their release "reach new, self-selecting consumer audiences directly with video content that is relevant to them."