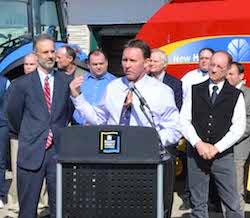 The Alliant Energy Center in Madison, WI is growing thanks to New Holland Agriculture. The expansion is underway and during the groundbreaking ceremony last week I spoke with Mark Clarke, director of the Alliant Energy Center.
"We're partaking on a project that we started a little over 18 months ago and to see it finally come to together is really exciting for me. We are going to have some really neat buildings when this is all said and done."
"What you are going to see is two brand new state-of-art building facilities and I don't know if anywhere else in the United States is going to be able to compete with these when we are done. We designed these from an animal standpoint. We had the representatives from World Dairy Expo and Midwest Horse Fair at the table last summer when we were designing these buildings. We are going to have 290,000 square feet of exhibition space and they are really versatile."
Listen to or download my interview with Mark here: Interview with Mark Clarke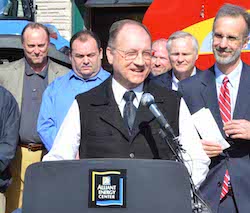 Another big player in this expansion is Ben Brancel, Secretary of Wisconsin Department of Agriculture, Trade and Consumer Protection (DATCP).
"The state of Wisconsin is recognizing the value of the livestock industry and World Dairy Expo is an international exhibit that brings people from around the world."
Ben explains that they already have had inquires about using the New Holland Pavilions for catering and sporting events along with many trade show type conferences.
They all know that the deadline is tight, but have great confidence in the endeavor. The Dane County Fair Grounds are accommodating with the use of tents for other activities held there throughout the summer. I know I'm not the only one who can't wait for the ribbon cutting this fall.
Listen to or download my interview with Ben here: Interview with Ben Brancel
Checkout photos from the event here: New Holland Pavilion Groundbreaking Ceremony