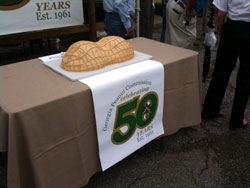 One of the things I did not get to participate in at Sunbelt Ag Expo was the celebration of the 50th anniversary of the Georgia Peanut Commission. Thanks to Willie Vogt, Farm Progress, I got this photo of the peanut cake that was cut and shared at the event.
The Georgia Peanut Commission also broke ground recently on a new building. Contact them if you'd like to purchase a commemorative brick that will be used in the construction.

The new headquarters will be the first net-zero energy building for state government in Georgia. The cost for the new building will be covered from the sale of the existing building, energy grants, sponsorships and a commemorative brick program.

2011 Sunbelt Ag Expo Photo Album
Sunbelt Ag Expo coverage is sponsored by The New Holland Boomer 555 Contest.