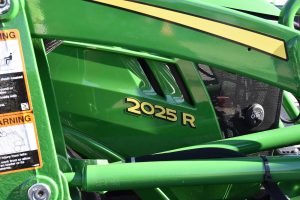 New this year from John Deere in the company's compact utility tractor line is the 2025R, which was on display at the 2017 Sunbelt Ag Expo. Product Specialist Demark Cole said the tractor is for residential customers and property owners who need a small tractor for loader work, rotary cutting and mowing.
"Anywhere from small loader work to doing rotary cutting. Equine is a good example, as well, where if you want to drag out feedlots or barns, things like that, this tractor fits perfectly. It has a narrow width and a narrow wheel base that you can fit into small places within barns," said Cole.
Ease of use and comfort are both a focus with this tractor, which is built and assembled in Augusta, Georgia. It is available now from local John Deere dealers.
Listen to Chuck's interview with Demark Cole: Interview with Demark Cole, John Deere
2017 Sunbelt Ag Expo Photo Album
Stories from Sunbelt Ag Expo sponsored by