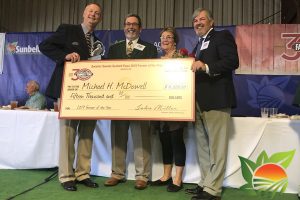 We couldn't attend Sunbelt this year but thanks to their staff we've got this big announcement from the show this week.

Michael H. McDowell of Vernon Hill, Virginia has been selected as the overall winner of the Swisher Sweets/Sunbelt Expo Southeastern Farmer of the Year award for 2019. He is a fourth generation Halifax County farmer and cattleman who grows mixed grass hay, annual hay, and alfalfa and raises award-winning registered Angus cattle. McDowell was named overall winner at the Willie B. Withers Luncheon held during the opening day of the 2019 Sunbelt Ag Expo farm show. He was chosen as Farmer of the Year over nine other state winners who were finalists for the award.
This is the thirtieth year for the Southeastern Farmer of the Year award. It recognizes excellence in agricultural production and farm management, along with leadership in farm and community organizations. The award also honors family contributions in producing safe and abundant supplies of food, fiber, and shelter products.
As the Southeastern Farmer of the Year, McDowell will receive a $15,000 cash award plus $2,500 as a state winner from Swisher International. He will also receive the use of a Massey Ferguson product for a year from Massey Ferguson North America, a $500 gift certificate from the Southern States cooperative, a Columbia jacket from Ivey's Outdoor and Farm Supply, a smoker-grill from Hays LTI, and a Henry Repeating Arms American Farmer Tribute edition 22 rifle from Reinke Manufacturing Co., Inc., the irrigation company, through its partnership with Henry Repeating Arms.
The other state winners this year include: Hank Richardson of Centre, AL, Chris Isbell of England, AR, Charles Obern of Clewiston, FL, Robert L. Dickey of Musella, GA, Danny Cunningham of Murray, KY, Ted E. Parker of Seminary, MS, Johnny Wishon of Sparta, NC, Sidi Limehouse of Johns Island, SC, and Jerry Ray of Tullahoma, TN.
Read more in the release here.