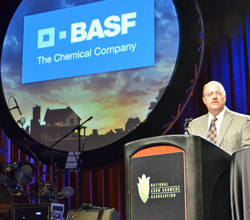 BASF Crop Protection helped corn and soybean growers celebrate the achievements of the past year as sponsors of the big association banquets during the Commodity Classic last week.
At the National Corn Growers Association banquet, BASF Manager for Plant Health and Seed Treatment Dr. Gary Fellows talked about how corn growers are living Howard Buffett's "40 Chances" challenge to make a difference in the world. "You are all greatly maximizing your 40 chances, or 40 seasons, to producing more out of the same acre," Gary said, paying tribute to the corn yield contest and scholarship winners who were honored during the banquet.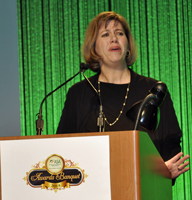 BASF Communications and Industry Relations Manager Sharon Hall attended the American Soybean Association annual banquet and helped to present the Conservation Legacy Awards, which BASF co-sponsors. Iowa soybean farmer David Ausberger was honored as both the Midwest regional and the national award winner. Jerry Peery of Kentucky received the the South Region award, and Mark and Phyllis Legan of Indiana received the award for the Northeast Region.

BASF at the 2014 Commodity Classic Photos