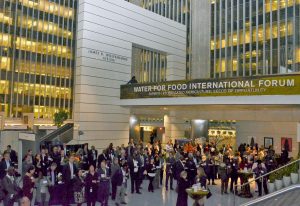 The Water for Food International Forum, produced by the Robert B. Daugherty Water for Food Global Institute at the University of Nebraska and The World Bank, in partnership with the U.S. Department of Agriculture and the U.S. Agency for International Development, was held January 29 – 30, 2018 at The World Bank in Washington DC.
The theme was Farmer-Led Irrigated Agriculture: Seeds of Opportunity and the event attracted over 200 participants from around the globe, including government ministers, members of congress, CEOs, social entrepreneurs, researchers, multilateral leaders and smallholder farmers. The forum focused on improving water and food security for smallholder farmers in developing countries through sustainable irrigated agriculture.
Speakers at the event included former Senator and Secretary of Agriculture Mike Johanns, Rep. Jeff Fortenberry (R-NE), University of Nebraska president Hank Bounds, World Bank CEO Kristalina Georgieva, World Food Programme Ambassador Ertharin Cousin, and many others.
In case you missed it, here are some links for you:
Water for Food AgWired posts
#Water4Food Virtual Newsroom
2018 Water for Food Forum Photos
Water for Food Forum Program
Water for Food International Forum Videos