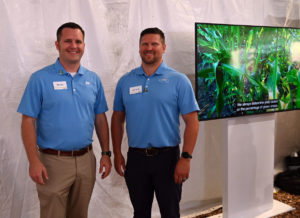 New products are on the way from NK Seeds and those visiting this year's Farm Progress Show were able to learn more about them.
"One hundred thirty-nine years in the seed business and this is our largest launch class in over a decade for NK corn products, launching 20 new hybrids in 2024," said Matt Dolch, NK Corn Product Manager. "You're not experiencing your grandparents' NK. It's a new line of genetics coming forward. Those products look really good headed into fall harvest. We're excited to get in there with the combine on this new class here."
Dolch said the company offers both offensive and defensive corn hybrids to battle things like tar spot that continues to rob yield from farmers. On the soybean side, versatility is the name of the game.
"We're really excited to be launching some products that are very versatile, products that can either be early plant, that can be full season, or even your double crop option," said Jared Benson, NK Soybean Product Manager.
Benson said it's important to have the right disease packages that allow farmers to use strip till, no till or conventional practices. Versatility allows farmers to be confident they will pick a product they know will work in a wide variety of situations.
NK Seeds
Matt Dolch, NK Corn Product Manager, and Jared Benson, NK Soybean Product Manager
2023 Farm Progress Show interview with Matt Dolch and Jared Benson, NK Seeds 4:43