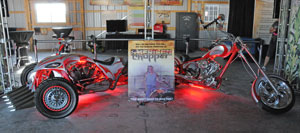 This is an awesome sight to biker fans. They are the Beck's Hybrids 75th Anniversary custom built Orange County Choppers motorcycles. You can find some more photos in the photo album. The one on the left has a combine corn head with ears of corn for handles and both have vintage farm scenes on the gas tanks.
You can stop by the Beck's tent to enter to win one of these bikes in the We Care for Orphans Adoption Fund Sweepstakes. You can get more details in the booth. The drawing will be held on Feb. 22, 2012 and the winner will be announced at Commodity Classic in Nashville, Tenn., March 1 – 3, 2012.

"My great grandfather and grandfather started Beck's 75 years ago, following the principle of providing our customers with the best in seed quality, field performance and service," said Scott Beck, vice president of Beck's Hybrids. "In celebration of our 75th anniversary, we commissioned OCC to build two custom choppers, with one of the choppers being featured on the popular Discovery Channel TV show, American Chopper. A second bike was built to raise money for the We Care for Orphans Adoption Fund."

The bikes were designed by Paul Teutul Sr., CEO of Orange County Choppers and will touring farm shows throughout the rest of the season.
2011 Farm Progress Show Photo Album
AgWired Coverage of the Farm Progress Show is sponsored by New Holland GROWMARK Trellis Growing Systems