Bio Huma Netics® is celebrating its 50th anniversary by officially rebranding the company as Huma®, Inc. Inspired by the word "humus," which is the highly fertile, organic layer of topsoil that brings life to the soil and our planet, Huma® seeks to deliver "Humic Solutions with a Human Touch®."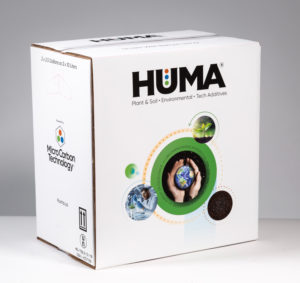 Founded in 1973, the three-generation, employee-owned company is a global leader in sustainable humic-based products and technologies, with distribution across the world. The new Huma® brand name will now consolidate six current agricultural, turf and environmental brands — HUMA GRO®, HUMA GRO® TURF, FERTILGOLD® ORGANICS, Mesa Verde Humates®, PROBIOTIC SOLUTIONS® and Alpha Synectics.
Through company-owned humate mining rights, and a proprietary extraction and development process, Huma® provides groundbreaking technology to boost beneficial microbial activity, helping lead to premium crops, healthy soils and clean water. Micro Carbon Technology® is the foundational building block of Huma®, resulting in innovative biostimulant products that naturally increase nutrient availability and uptake, improve soil and plant health, and offer zero-residue crop protection against pests and diseases.
According to the announcement, the company is also renaming the world-class Alpha Synectics Laboratory to Huma® Research & Development, and will be hosting the Huma® World Conference in Gilbert, Arizona, in November 2023.
Visit huma.us to learn more.