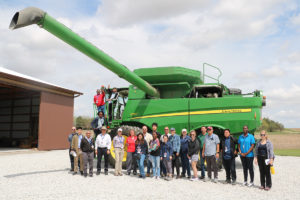 A diverse delegation from at least nine different countries recently had the opportunity to see Nebraska agriculture firsthand on a tour following the Water for Food Global Conference earlier this month in Lincoln, Neb.
After three days of discussing solutions for food and water security, nearly 30 attendees stayed an extra day to visit Nebraska producers and learn about the innovation and technology in the state. Attendees represented the Democratic Republic of the Congo, Ethiopia, India, Indonesia, Italy, Japan, Peru and Rwanda, as well as the United States. In collaboration with the Nebraska Corn Board, the Nebraska Soybean Board, and the Nebraska Cattlemen Foundation, the group toured Weber & Sons Feedlot in Dorchester, as well as Allan Tiemann's row crop farm in Seward.
The tour was initiated by Debbie Borg, a farmer and Nebraska Corn Board member, who participated in a panel at the forum. "I always tell people our farm gate is always open," said Borg. "We need more farmers willing to open their farm gate to share their story."
Borg was joined on the "View from the Field" panel at the Water for Food Conference by producers from Argentina, El Salvador, Uganda, and the Philippines, moderated by farm broadcaster Susan Littlefield with KRVN/Rural Radio Network.
Listen to an interview with Borg here:
2023 Water for Food interview - Debbie Borg, Nebraska farmer (5:06)