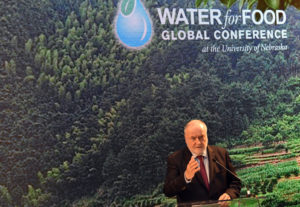 Loïc Fauchon, president of the World Water Council, was one of more than 120 global speakers and 400 participants who gathered at the recent Water for Food Global Conference in Nebraska to discuss innovative ways to improve water and food security by increasing farmers' resiliency to a changing landscape.
"Water and food are two of the most important priorities of tomorrow's world," Fauchon said during his remarks. "We must stop ignoring that water is food."
The conference was produced by the Daugherty Water for Food Global Institute at the University of Nebraska (DWFI) and held May 8-11 in Lincoln, Neb. The 2023 conference was a partner event for the 10th World Water Forum, the world's largest water-related forum organized by the World Water Council. It will be held May 18-24, 2024, in Bali, Indonesia.
"The role of the forum is to be able to gather all of the water family, so it's a huge meeting," Fauchon said in an interview. "Water is politics because the solutions are here, we need political will. Water has to be considered as a priority."
Learn more in this interview with Fauchon.
2023 Water for Food interview - Loïc Fauchon, World Water Forum (9:03)
See more interviews and photos from the Water for Food Conference