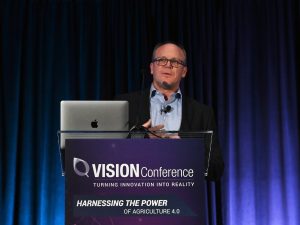 Rob Dongoski is the Global Food & Agribusiness Lead with the corporate consulting firm EY (Ernst & Young) which has as its purpose to build a better working world. His purpose as keynote speaker for day two of the 2023 VISION Conference was to discuss How Technology Will Enable the Future Food System – from Producers to Consumers.
As consumers want to know more about their food and there is a bigger focus on sustainability, "the opportunity to leverage technology in the food system is phenomenal right now," said Dongoski. "As a society, what we're leaning in on is friendliness to our planet, so how do we improve some of our practices using technology to make it more planet-friendly."
At the same time, farmers need to know more about consumer trends than ever before to be able to respond to them in the marketplace. "So as consumers shift away from certain types of foods, are they producing something on the down cycle or could they shift over to something that may be on the growth cycle," Dongoski explained.
More and more we are all getting information and making decisions with our phones as it relates to food, which provides new opportunities for interaction. "People want to be served by their phones. Particularly the Gen Zs and Millennials have grown up always having a phone, their channel starts with the phone," said Dongoski. "Whether it's delivery folks, or directly through stores or restaurants, I think we're just starting to see the opportunity."
VISION 2023 interview with Rob Dongoski, Ernst & Young
(4:55)