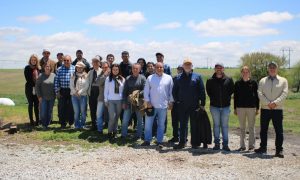 The government of Mato Grosso, Brazil found what it was looking for in Nebraska – ways to improve the sustainable development of water for crop irrigation and pasture land, to intensify production on existing lands and decrease expansion of agriculture on fragile ecosystem.
As a result of a technical visit to Nebraska in May, Mato Grosso will sign a technical collaboration agreement with the Daugherty Water for Food Global Institute (DWFI) and the University of Nebraska to map its water resources in order to identify, monitor and define any present and planned future use.
The state of Mato Grosso is Brazil's agricultural giant, producing more soybeans and cattle than any other state in the country. It is also considered one of the world's main food producers. However, the state faces many issues with the expansion of agriculture exerting pressure on the Amazon Forest and Cerrado savanna ecosystem. In addition, agriculture faces many water challenges, especially during long periods of drought.
With its mild climate and significant rainwater, Mato Grosso experiences two growing seasons. However, with just 5% of the state's agricultural land currently irrigated, there is potential for a third crop production season within one year.
The new partnership is part of DWFI's effort to strengthen relationships around the world to grow more food with less stress on water resources. DWFI's mission is to have a lasting and significant impact on achieving more food security with less pressure on scarce water resources.