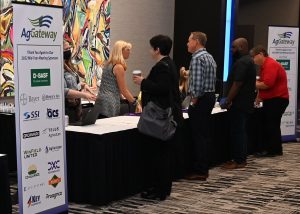 AgGateway is celebrating its 2022 Mid-Year Meeting as a 100% in-person experience once again this week at Prairie Meadows in Altoona, IA.
AgGateway President and CEO Brent Kemp says this summer meeting, which brings more than 250 industry professionals together, is where the work of the organization gets done. "The majority of the work that we do is really the heads down, identify business problems, figure out where the technical solution is, create a working group to address it, and very quickly develop a guideline to go out to the industry," said Kemp during a pre-opening interview.
AgGateway's mission is to develop the resources and relationships that drive digital connectivity in global agriculture and related industries and they just recently reorganized in 2020 to facilitate agile, cross-sector, global solutions through the creation of the Portfolio Management Center and Digital Resource Center.
Learn more about the priorities for AgGateway this year in this interview.
2022 AgGateway Mid Year - Brian Kemp, AgGateway 8:23