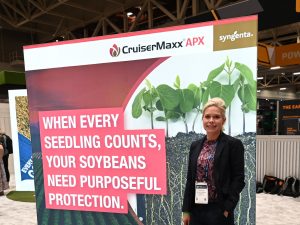 Syngenta recently launched CruiserMaxx APX, a new brand combining components of CruiserMaxx Vibrance seed treatment with picarbutrazox, a novel mode of action.
"With CruiserMaxx APX, best-in-class soybean seed treatment protection is now even better," said Katie Jaeger, Syngenta Seedcare product lead, at last week's Commodity Classic. "CruiserMaxx APX combines the proven Vigor Effect and RootingPower that CruiserMaxx Vibrance is known to deliver with supercharged, broad-spectrum, early-season disease and insect protection to give seedlings the strongest possible start from day one."
Jaeger said the product will be featured in Grow More sites during the 2022 growing season and the first commercial sales will occur in Q4 of this year.
Learn more in this interview from Classic.
Interview with Katie Jaeger, Syngenta Seedcare product lead (3:00)