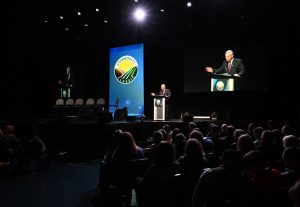 Secretary of Agriculture Tom Vilsack has made very few in-person appearances since becoming the head of USDA for a second president last year, but he did make it a point to attend the 2022 Commodity Classic in New Orleans Friday and address thousands of corn, sorghum, soybean, and wheat farmers.
"I'm here today to talk about the opportunities and challenges facing American agriculture and how confident I am in a bright, hopeful and optimistic future," Vilsack began.
He talked about the situation in Ukraine and being able to hear from the agriculture minister from that country who was speaking to them from a bunker. "As I listened to him, it impressed upon me the importance of all of us who live in a free and democratic country never to take that privilege for granted," Vilsack said to applause.
The secretary got a standing ovation when he talked about the role biofuels can play in lowering record high fuel costs. "We know and I know and you know that E15 can do that and B20 can do that," he said.
Vilsack also announced that USDA will support additional fertilizer production for American farmers to address rising costs by making available $250 million through a new grant program this summer to support independent, innovative and sustainable American fertilizer production to supply American farmers. Additionally, USDA will launch a public inquiry seeking information regarding seeds and agricultural inputs, fertilizer, and retail markets.
Secretary Vilsack remarks
(32:11)
Vilsack press conference
(24:24)