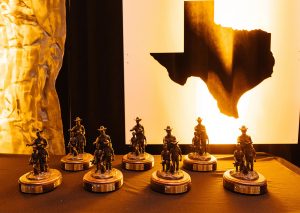 Seven of the nation's top cattle operations were recognized as Environmental Stewardship Award Program (ESAP) regional winners for their environmental conservation efforts during the 2022 Cattle Industry Convention & NCBA Trade Show in Houston, Texas this week. The regional winners will compete for the national award, which will be presented during NCBA's Summer Business Meeting in Reno, Nevada, July 25-28, 2022.
Established in 1991, by the National Cattlemen's Beef Association to recognize outstanding land stewards in the cattle industry, the Environmental Stewardship Award Program (ESAP) is generously sponsored by Corteva Agriscience, McDonald's, USDA Natural Resources Conservation Service (NRCS), U.S. Fish and Wildlife Service, and the National Cattlemen's Foundation.
Here is a list of the winners, with interviews for five of the seven. Pictures of all the winners can be found on the convention website.
Region I: EZ Acres, LLC, Homer, New York
Brothers Mike and Pete McMahon manage more than 2,500 acres of the sixth-generation family-owned dairy cattle farm and beef operation.
Region II: Vaughn Farms, Forsyth, Georgia
James Vaughn, his wife, children and sister manage nearly 5,600 acres which are devoted to producing forage crops, providing pastureland for their cattle, and managing timberland for pulp, lumber and energy production.
Region III: Robbins Land & Cattle, Scranton, Iowa
Justin and Lacie Robbins manage their Iowa row crop and cattle operation based on the responsible use of natural resources.
CIC22 Interview with ESAP winner Justin Robbins, Iowa 2:26
Region IV: Dry Creek Ranch, San Angelo, Texas
After a 26-year career in the U.S. Army Veterinary Corps, Carl and his wife, Pat, returned to the family ranch to establish a registered Hereford cattle herd and continue conservation practices and improvements.
CIC22 Interview with ESAP winner Carl and Pat Schlinke, Texas 4:56
Region V: Joe C King & Sons Ranch, Winnett, Montana
The King family operates with the belief that their area of Montana is best left as native range where cattle, wildlife and the landscape can live in harmony with each other and act as a mutually beneficial system.
CIC22 Interview with ESAP winner Chris King, Montana 1:52
Region VI: JY Ferry & Son, Inc., Corinne, Utah
Sustainability has long been an objective for JY Ferry & Son, with a 100-year history of conservation focusing on agricultural practices that conserve water, energy and other natural resources.
CIC22 Interview with ESAP winner John Ferry, Utah 2:05
Region VII: Blair Brothers Angus Ranch, Vale, South Dakota
Blair Brothers Angus Ranch is a family-owned operation focused on embracing conservation practices that enhance soil, water, livestock and wildlife.
CIC22 Interview with ESAP winner Ed Blair, South Dakota 2:34