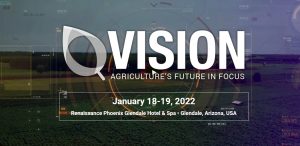 Registration is now open for the 2022 VISION Conference, January 18 -19, at the Renaissance Phoenix Glendale Hotel & Spa in Arizona.
The 2022 VISION Conference, now in its 5th year, engages leaders throughout the agricultural technology ecosystem to address the dynamic recent advances in technology, systems, and platforms enabling interconnected solutions from farm to retail. The world of data and technology continues to advance rapidly since VISION last convened in 2020. The 2022 VISION Conference has a broader scope and wider perspective mapping the exciting new future for agriculture.
The 2022 VISION Conference features one main track of programming focused on the top priorities for agriculture and technology: regenerative agriculture, automation, connectivity, and transparency. Attendees will engage with a mix of expert presentations, panel discussions, active Q&A and debate, small group roundtables, and high-value networking.
"The 2022 VISION Conference continues a strong legacy as the event that is leading agriculture forward by capitalizing on the power of new technologies that are grounded in the realities of agriculture. Space is limited so early registration is encouraged," says Katie Smith, VISION Conference Show Director.
Register for The 2022 VISION Conference at TheVisionConference.com/Register.