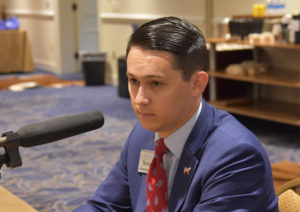 The National Cattlemen's Beef Association continues work toward and support policies that will help those working in all areas of the cattle industry.
"There is no such thing as a silver bullet, one size fits all, policy solution to these issues. It's going to have to be a multi-faceted broad approach where we kind of take little chunks out of the marble until we get to the finished statue at the end," said NCBA's Tanner Beymer.
Beymer said new USDA reports are providing more transparency into the base price when it comes to cattle markets. He said there is currently a supply and demand imbalance at the fed cattle level, and more processing capacity is needed. Beymer pointed out the importance of continued work towards price discovery, as well as other market drivers like transparency and confidentiality.
CIC2021 Interview with Tanner Beymer, NCBA
8:06
Cattle Industry Convention virtual news room.
2021 Cattle Industry Convention and NCBA Trade Show Photo Album