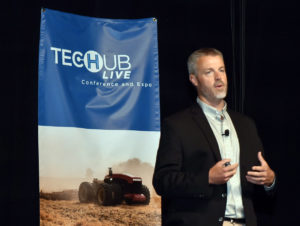 Precision agriculture has come a long way over the past couple of decades, to the point where it has gone beyond individual technologies to integrated systems, which is becoming increasingly important in the sustainability economy.
FieldReveal CEO Matt Hesse told attendees at last week's Tech Hub LIVE conference that sustainability will be an increasing consideration for growers in their decision making. "We've got tool sets that are currently available that are doing things that need to set us up to be better now and for the future," said Hesse.
FieldReveal and partner AgWorks were premiere sponsors of the inaugural Tech Hub LIVE in Des Moines.
Tech Hub Live interview with Matt Hesse, FieldReveal
(1:59)