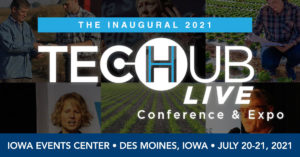 Live events are finally coming back and the excitement is high for the inaugural Tech Hub LIVE 2021 being held July 20-21 at the Iowa Events Center in Des Moines, IA.
The intersection of agriculture and technology will come alive at this new, innovative conference and trade show that addresses digital and precision agriculture from all angles, exploring how products and systems integrate into existing programs and businesses to improve crop production, efficiency, and profitability.
"We've designed Tech Hub LIVE to demonstrate and celebrate how innovation gets put into practice," says Paul Schrimpf, conference chair of Tech Hub LIVE and group editor of CropLife Media Group at Meister Media Worldwide. "We took a different approach to the sessions, taking full advantage of our return to in-person events. The panel-centric approach is designed to utilize interaction and minimize the use of PowerPoint presentations, with active moderation and audience participation."
Attendees are welcome to arrive a day early and participate in a limited-capacity field day at Couser Cattle Company at Modern Ag Farm. Field day participants will see firsthand how a fully-integrated farming operation utilizes technology to maximize productivity and efficiency in its row crop, animal, and ethanol programs. And leading ag-tech companies will share their latest products and systems in a demo area.
The event officially kicks off with a Welcome to Iowa Party at Exile Brewing Co., allowing attendees to reconnect with industry friends, meet new leaders, share ideas, and socialize with others focused on advancing their agronomic programs. Then rolls into a full slate of engaging education, including a keynote session: The Top 10 Technology Innovations You Need to Know Right Now. The two-day event provides ongoing opportunities to engage, learn, network, build relationships, and find out how leaders across the ag-retail and the tech spectrum are adopting innovation to improve their businesses.
More information and registration can be found at TechHubLive.com.
Learn more about the event from Paul Schrimpf and Eric Davis with Meister Media in this interview.
TechHub LIVE preview interview (14:47)