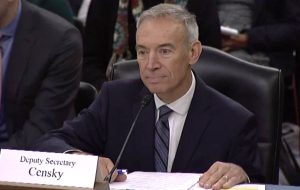 The Senate Committee on Agriculture, Nutrition, and Forestry held a hearing Thursday to hear from USDA Deputy Secretary Stephen Censky regarding implementation of the 2018 Farm Bill.
"At the Secretary's direction, our implementation cadence and priorities corresponded to the conditions testing the resilience of the American farmer," Censky told the committee. He gave updates on implementation of the Dairy Margin Coverage (DMC) Program, Agriculture Risk Coverage (ARC) and Price Loss Coverage (PLC) programs, conservation programs and the Hemp Production Program in advance of the 2020 planting season.
Listen to his opening remarks below and read full testimony.
Senate Ag Hearing - USDA Deputy Steve Censky
(5:14)
The announcement out of EPA this week regarding the Renewable Fuel Standard (RFS) came up during the hearing. Sen. Tina Smith (D-MN) was first to ask about it. "I can just assure you directly from conversations with the president and the president is insistent that EPA administer this to make sure we achieve 15 billion gallons," said Censky. Listen to that exchange:
Sen. Smith and USDA Deputy Censky - EPA RFS proposal
(3:07)