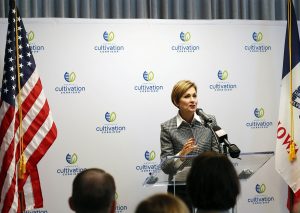 During the World Food Prize activities this week in Des Moines, America's Cultivation Corridor™ announced the launch of the Cultivo Global Ag Innovation Program™ for startup companies and entrepreneurs. The new program will bring international start-ups to Iowa for a 10-day immersion experience, training and networking.
"Iowa producers feed and fuel the world, making us the perfect host for the 2019 World Food Prize," said Iowa Governor Kim Reynolds. "We know that the solutions to global food security and sustainability challenges can only be solved by a combination of innovations, technologies and new practices developed by the best and brightest minds around the world. The Cultivo Global Ag Innovation Program is an exciting new opportunity to bring global entrepreneurs and innovators to Iowa to share their ideas and engage with world-renowned researchers, industry leaders and farmers."
America's Cultivation Corridor will host and coordinate the Cultivo Global Ag Innovation Program in partnership with its investors and supporting organizations.
America's Cultivation Corridor is working to accelerate the development of new technologies to meet the challenge of feeding a growing world population in a sustainable way. Stakeholders include Iowa State University, Corteva Agriscience, Deere & Company, Greater Des Moines Partnership, Iowa Pork Producers, Kent Corporation, MidAmerican Energy Company, Ames Economic Development Corporation, Iowa Corn Promotion Board, Iowa Farm Bureau, ISG, Kemin, REG, Sukup Manufacturing, Sukup Manufacturing, Co., Summit Agriculture and Vermeer Corporation.