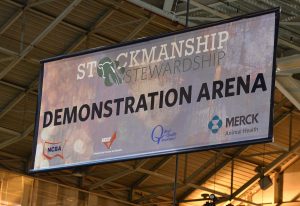 Five 2019 sessions of the Stockmanship & Stewardship program were announced at the Cattle Industry Convention and NCBA Trade Show last week. The events are made possible through sponsorship from Merck Animal Health and will be coordinated by the producer education team at the National Cattlemen's Beef Association and local host organizations. Additional funding and support for the program is provided by the beef checkoff-funded Beef Quality Assurance program.
The dates and locations are:
Tulare, Calif. March 20-21
Ames, Iowa June 28-29
Fort Collins, Colo. TBD August
Manhattan, Kan. September 20-21
West Monroe, La. October 4-5
"For the third year, we're thrilled to be able to hold these sessions that focus on proper cattle handling and stewardship," said Chase DeCoite, director of BQA at NCBA. "Producers who have attended these events in the past have gone home with greater understanding of the best practices in working with cattle in their particular area of the country."
Stockmanship & Stewardship events include live cattle demonstration and hands-on opportunities. They also include BQA training and classroom sessions highlighting issues that affect cattle producers in each region. In addition to cattle handling and effective stockmanship, possible elements of regional sessions include sustainability and environmental stewardship, animal health and regional issues and hot topics.
Learn more in this press conference from #CattleCon19 with DeCoite, Angela Baysinger and Amanda Welsh with Merck Animal Health Merck Animal Health/NCBA Press Conference
2019 Cattle Industry Convention & NCBA Trade Show Photo Album
Official Cattle Industry Convention and NCBA Trade Show virtual newsroom