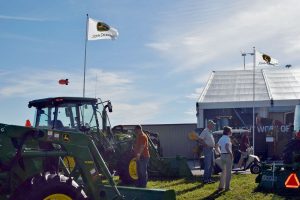 The John Deere exhibit at the 2018 Farm Progress Show next week in Iowa will include a wide variety of new equipment and technology solutions from the product experts. These products include new forage harvesters, additions to the tillage equipment and utility tractor line ups, and 8R Tractor enhancements, as well as new guidance, displays, software updates and other equipment, precision and data management solutions.
"Farm Progress is a big showing for John Deere," said Cyndee Smiley, media relations manager, at the recent Ag Media Summit. "We want to ensure that whoever comes to visit the booth has a really great experience."
Smiley explains more in this interview – Interview with Cyndee Smiley, John Deere
John Deere just announced the new DN495 G5 Dry Spinner Spreader for the F4365 High-Capacity Nutrient Applicator to allow large-scale grain producers and commercial ag service providers to more precisely apply dry fertilizer and other nutrients across a wide variety of crop and field applications.
The new DN495 G5 can be ordered starting in September with delivery expected in mid-2019.